Complete Advisory Partners, LLC.
Keeping the world's eye on you!
Find Out More
Complete Advisory Partners Assists Your Company in Obtaining a Market Presence.
Complete Advisory Partners (CAP) is a firm specializing in increasing the equity valuation of its clients. Micro-cap companies contract CAP to publicize the value of their companies for a number of reasons. Among them are the following;
to maximize company equity.
to seek admission to larger exchanges.
to increase the value of the company for acquisition purposes.
exposure to the eyes your company seeks … investors!
CAP works through a network of investment professionals to create investor consideration of your company. The end result : the world's eye is on you!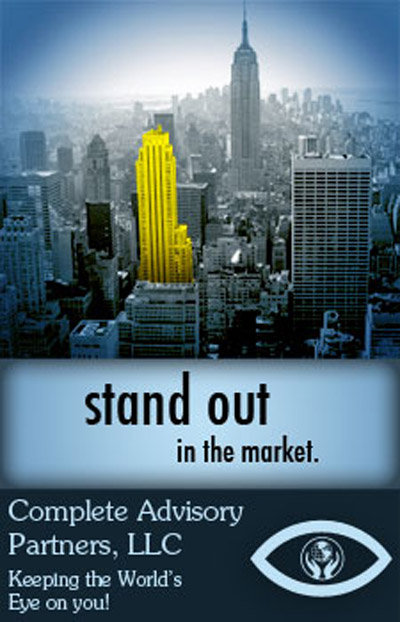 The Best Solution For Your Micro-cap Company
Our company works with your company to maximize the number of eyes that read a client's press releases and filings. By collecting an audience of potential investors, CAP and the client seek to gain as much exposure as possible for you.
The micro-cap world has a reputation that make some wary of people doing business in this arena. For companies already listed in the micro-cap markets, a step up to the NASDAQ Small Cap Market is a major step indicating legitimacy and success. Often times, capital constraints are the reasons the company cannot go to the next level.
For companies not yet public, the public route is one of the few avenues open to raising capital for development and early expansion stage firms unwilling or unable to deal with venture capital firms and their legal and ownership requirements.
Often a venture capital firm will find it easier to structure a deal with a public company as liquidity is increased. CAP works with private companies looking to raise their profile by becoming publicly traded firms.
We perform our own due diligence, as our credibility is on the line with investors when we promote your company… CAP's client base has a common goal – they want to be known as legitimate and growing companies.
At CAP, our reputation is immeasurable. We have been in business for seven years, and yet our address, phone numbers, and reputation still haven't changed. We believe in building value and integrity – much like your company.
CAP + Your Company = A Team
"Team Work Makes the Dream Work"